The Serpent | Darker Than Dark Within Bloom | Beauty From A Synthesizer
Massive unlimited | Knowledge Of The Hidden | Membrane Expansion | Free demo presets
Enchantment Of Absynth




Darker Than Dark Within Bloom was recently put on a warez site. If you come from that site then, please consider buying instead.
Make a difference and support the small independent developer instead of killing him.
Thanks for reading.


Darker Than Dark Within Bloom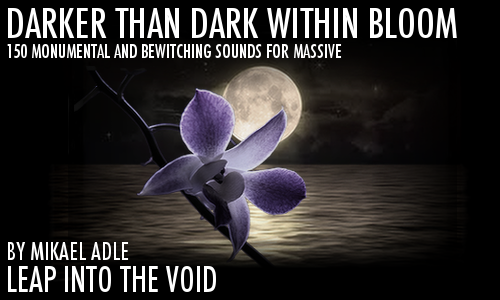 Underworldly and enchanting.
Even more dark, more scary, more ominous, and more beautiful.
150 sounds designed to seduce and enchant from the darkest of dark.


Customer feedback.
"Just a short note to say that I picked this up yesterday and am blown away. I usually don't buy preset packs for my synths (I usually don't even have time to get through the stock presets), but I heard these examples and decided to take the plunge. I am very very glad I did. These are not mere presets - they are almost like individual compositions that have beginnings, middles and ends, evolving over time. Entire moods can be evoked simply by pressing a single key. I would strongly recommend that anyone with Massive pick this up; it is a shining example of first-rate patch development." Read here.


Darker Than Dark Within Bloom for Massive focuses on dark evolving soundscapes, pads, pulsating doom and ominous sequences. The library also contains thunderous sequenced drums from the underworld, organs, sequenced soundscapes, bass sounds, scary sounds, beautiful sounds and leads.


Suited for electronic or dark music, film or games that need soundscapes that can fill the background of a complete scene alone. If you want to step into the dark areas, this library will most certainly inspire and feed you with creativity.

Please have a listen.



Theres no fx or processing apart from a small amount of Logics limiter on the output.
All sounds are from Darker Than Dark Within Bloom.


Find 14 free demo sounds available here to try before buy.

€ 29.95

As ordering is handled manually, please be patient.
If you haven't received your order within 24 hours, please check your spam folder.